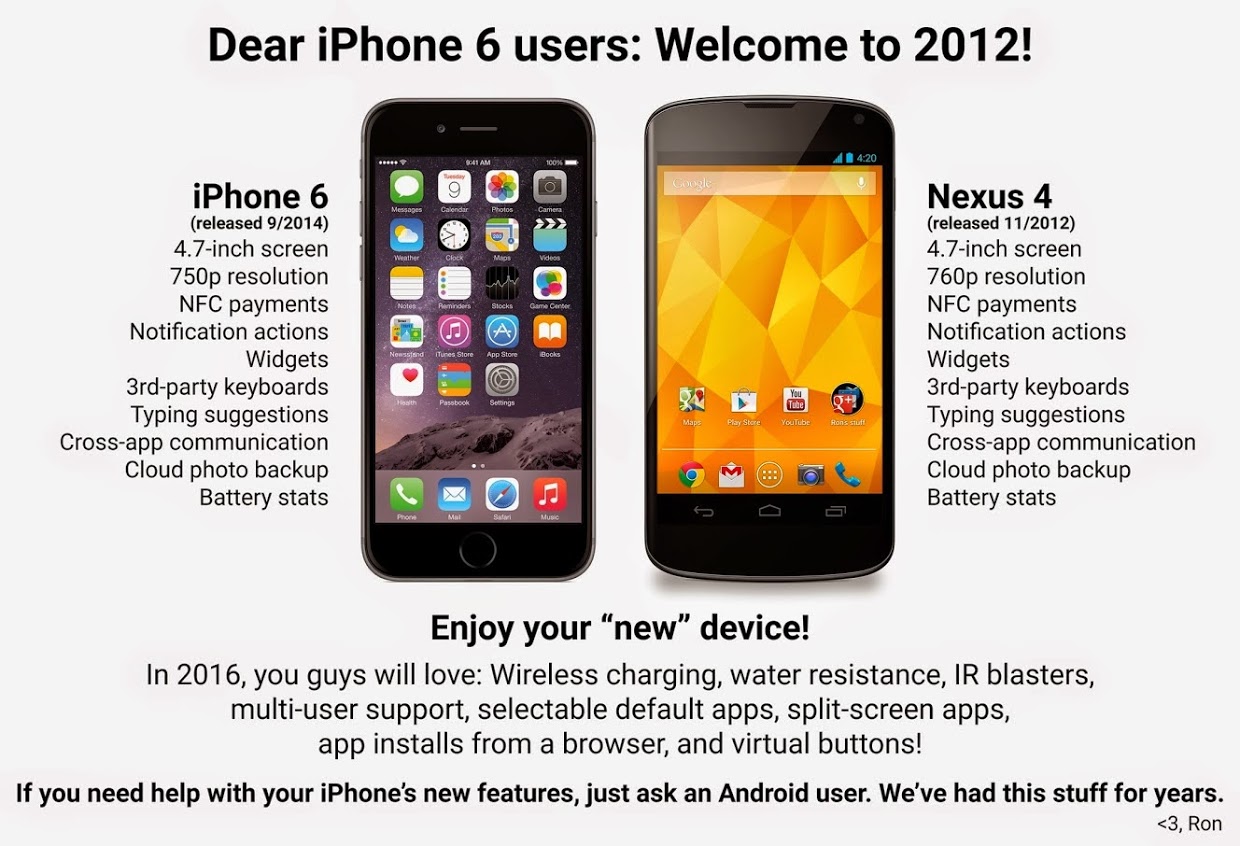 I feel you iSheeps, it should be so hard that everyone pokes fun at you because of your nonsense ideas like golden size or rule of Thumb ? Do you remember calling bigger phones bricks ? NOW YOU HAVE A BIG 5.5″ BRICK. Don't forget that Galaxy S5 is only 5.2″, smaller than iPhone 6+. Ha, you cant remember right !? Suddenly you cant remember. OK Let me help you then :
http://gizmodo.com/5847981/this-is-why-the-iphones-screen-will-always-be-35-inches


Here you have Samsung DESTROYING iSheeps :
Do you remember Apple suing Samsung for shape and feel of Galaxy phones ? Now look at this :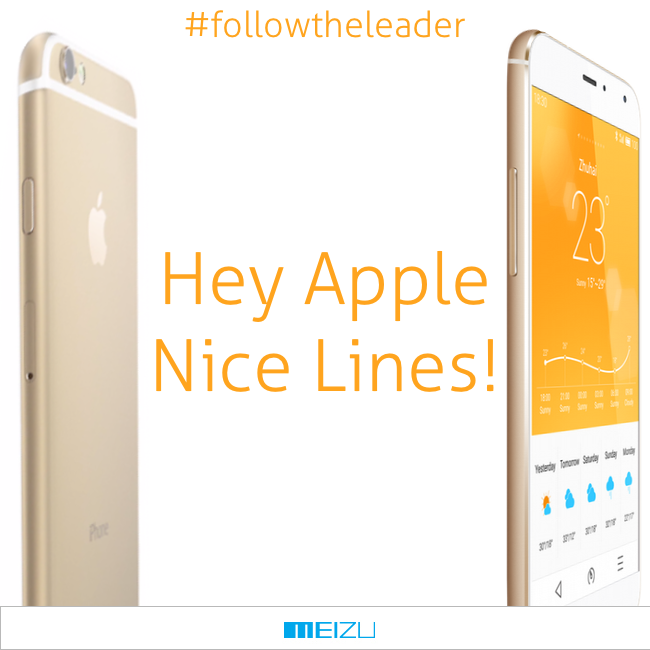 The right phone is MEIZU MX4 which is released before iPhone 6. I really hope MEIZU sues Apple for this outrageous infringe on their intellectual property.
This time we got Jony Ive in action ! Copying his designs from Android phones. Only he thought if he steals his designs from a less known Android brand, no one will notice. I'm sorry Jony, we got you.
Here is another Chinese phone manufacturer poking fun at Apple for copying their branding :
I know you may not know OnePlus or Meizu. They are great smartphones with a quarter of price of iPhone 6+. it's OK. That's why we call you iSheep. You have no idea about other brands or products than Apple.
Lets not forget about your new showoff toy Apple Watch :
And I really believe you should trust Apple with all of your financial info :
Now it's time to get in line and bend over in Apple stores to be ripped off :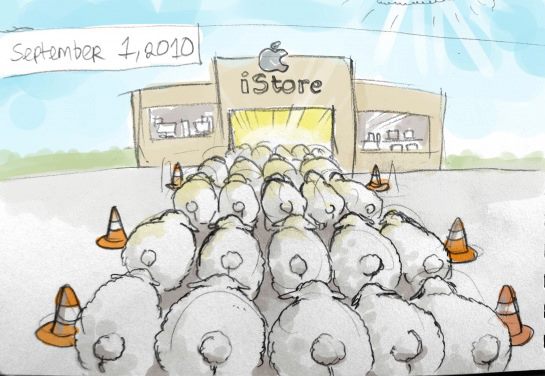 "Two things are infinite: the universe and human stupidity; and I'm not sure about the universe." –Albert Einstein
Eager to see some typical Apple users ? Here you go :
It is time for you to think and decide. You can leave the iSheeps herd right now by destroying (or may be selling) your iPhone and buying a proper Android smartphone. As the time of writing this post, you have many choices (Like LG G3 or SONY XPERIA Z3 or HTC ONE M8 or …). By doing this you will not only get a better smartphone but also save a ton of hard earned money and most importantly we welcome you to the geeks world. You will be actually able to do things with your smartphone ! OR you can let iFruit control your mind and decide what you can do and what you can not do because you have no brain to think for yourself.
In case you decided to remain an iSheep, do not forget to buy the new Apple product iLine :
— This post is Dedicated to all iSheeps, especially my Babayi.